[vc_row uxb_theme_class=""][vc_column uxb_theme_class=""][vc_column_text]Unfortunately, there are some architects and builders using a simplified spreadsheet to give L1B compliance to building control for extensions, with inaccurate and misleading results. This is something that more and more local authorities are noticing and gives a very real risk of having your extension fail current building regulations compliance.
Part L1B of the building regulations, clearly states: –
4.23 If the window is enlarged or a new one created, then the area of windows, roof windows, rooflights and doors should not exceed 25 per cent of the total floor area of the dwelling unless compensating measures are included elsewhere in the work.
Highly glazed extensions are very popular but many of these extension designs do not comply with the minimum standards of Part L1b regulations. The requirement being that the area of new glazing accounts for no more than 25% of new extended floor area. However, by upgrading or over compensating other construction elements the negative impact of larger expanses of glass can be off-set. If the whole dwelling is receiving a refurbishment there may be many more options available to off-set non-complying elements of construction in order to show an improvement in the overall energy efficiency of the dwelling. The correct way to demonstrate compensating measures elsewhere in the extension, is by an accredited SAP assessor carrying out an L1B SAP calculation, therefore providing building control with Proposed and Notional SAP/DER worksheets and a covering report showing their methodology.
Approved document part L1B 'Conservation of fuel and power in existing dwellings', which was brought into effect from 1 October 2010 with several amendments in 2013 and 2016. Sets out the requirements for renovations, extensions and consequential improvements to energy performance.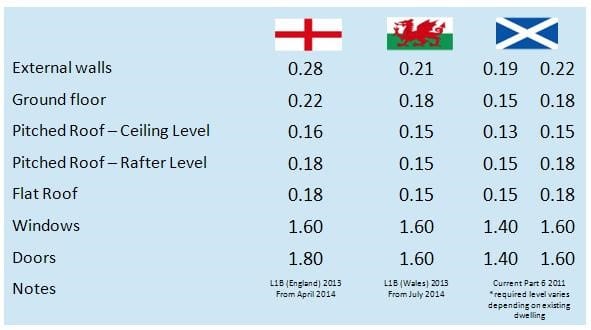 There are other ways of demonstrating compliance with the regulations but in terms of the most straightforward, following the guidance in the Part L1B is the simplest. The Regulation itself is
straightforward, in order to comply with Part L1B there are 3 sections referred to: –
Regulation 4A – Thermal Elements – if an element is replaced it should meet the minimum requirements, and if new it should also meet minimum requirements of thermal efficiency.
Regulation 17D – applies to existing buildings with a total useful floor area of over 1000m2 where the proposed work consists of an extension, initial provision or increased capacity of any fixed building services.
Regulation 17 E – Where appropriate an Energy Performance Certificate (EPC) should be provided.

As mentioned earlier, some architects and builders are using a simplified spreadsheet, which in essence is a way of calculating the Area Weighted U-value of the extension elements. This is a method that can be used if one element is slightly out or because the building has a Listed Status or for reasons why a particular measure cannot be implemented, for example cost effectiveness of implementation. Showing an area weighted U-value calculation, which compares the as designed extension to one that elementally meets the regulations, can help show compliance. The trouble is, often this is not enough or these figures are doctored or created in order to achieve a 'quick win'.
Don't allow yourself to fall into the trap, whether you're a builder, conservatory installer or the end user. Delays in building control approval will cost you hundreds if not thousands of pounds. Whether it's at the time of building your extension or when you come to sell your house. The last things you want to risk are additional costs from having to retrospectively improve say, the insulation in the fabric or replace a boiler just so that you can meet regulations. In some extreme cases, solar panels may need to be installed. All are realities that we see far too often, because SAP calculations weren't done or were done wrong at design stage.
Allow one of our accredited SAP assessors to carry out the correct L1B calculations, giving you improved design flexibility and guiding you at every stage, in order to achieve a pass every time. Give Briary Energy a call 020 3397 1373 or send your drawings to joseph@briaryenergy.co.uk for a quick 24 hours turn around.[/vc_column_text][/vc_column][/vc_row]